Applying for a Place
Admissions to Swanwick Hall School into year 7 are managed by Derbyshire County Council. To apply for a place at Swanwick Hall or for more information on Derbyshire County Council's school admissions procedures – click here(opens in new tab)(opens in new tab)(opens in new tab).
The deadline for an on-time application for entry into year 7 in September 2022 is 31st October 2021.
With effect from 1st November 2021, applications for in-year places should be made directly to Swanwick Hall School , click here to complete the application form.
When an application for a place at this school is unsuccessful, families are able to appeal the decision by completing this Admissions Appeals Form, click here.
Secondary application and appeals timetable 2021-22
National Closing date for on-time applications
31 October 2021
National Offer date for all Secondary Schools
1 March 2022
Closing Date for on-time appeals
1 April 2022

On-time appeals will be heard by

Late appeals will be heard at the same time as online appeals wherever possible or within 30 school days of the appeal being lodged.

Monday 20 June 2022

Last Date to submit any additional information in support of your appeal
The independent clerk will notify you of this date, which is usually 5 days before the date of your appeal hearing
Decisions will be communicated in writing from the independent clerk, within 5 working days of the date of your appeal

In-year appeals will be heard within 30 school days of the appeal being lodged.
All pupils who have an Education Health Care Plan which names the school will follow the SEND Consultation process. 
If you are interested in a tour please contact Mrs Hollingsworth, the Headteacher's PA, on 01773 602106 ext. 1032 or email aho@swanwickhall.derbyshire.sch.uk. If you have mobility issues please advise us prior to your visit so that we can make the necessary arrangements to accommodate you. 
Admissions Policy
There are two parts to our Admissions Policy. The Two Counties Trust Admissions Policy Part 1 can be found below:
The Two Counties Trust Admissions Policy: Part 1
Part 2 of our Admissions Policy can be found below: 
Swanwick Hall School Admissions Policy: Part 2 2021-22
Swanwick Hall School Admissions Policy: Part 2 2021-22
Catchment Area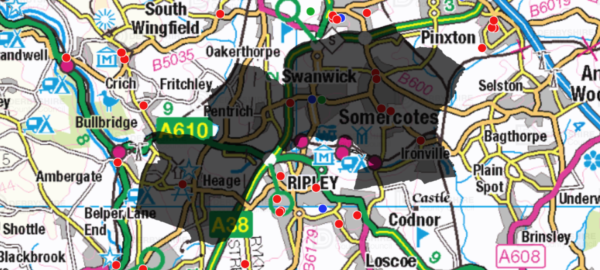 We are very much looking forward to welcoming your child and helping them settle into secondary school. We know you will have many questions and some students may be feeling nervous about the change. To support the transition process, we will make frequent contact during this half term as we provide all the information you and your child need to know about Swanwick Hall. We will be providing a range of videos including ones which aim to address all the frequently asked questions we know families have at this time of year. Of course, if you have anything you are unsure about, please do get in touch using enquiries@swanwickhall.derbyshire.sch.uk and we will get back to you. 
In this first video, some key staff who will work with your child next year would like to introduce themselves. 
In this second video, we have tried to provide answers to some of the key questions students often ask. 
In this third video, we have focused on the frequently asked questions parents and carers have. 
Our latest video gives you a tour of the school site so that students can familiarise themselves with the layout. 
In this video the Year 7 team of form tutors are going to introduce themselves. Letters informing you of your child's form tutor were posted first class and the letter also contains some details about the first day in September.
You will also see we have included a booklet of summer challenges. These are not compulsory but are designed to give your child a flavour of each subject and their teacher will refer to the booklet in their early lessons.
We would also like to invite your child to take part in the 'Get caught reading' challenge, where students are asked to take a photo of themselves reading in an unusual place. We have had some wonderful contributions over the last few years; from trampolines to the top of a castle! It's a real pleasure looking through the range of ideas. Your child can either bring their photo with them in September or email it to our librarian, Mrs Gonsai, at mgo@swanwickhall.derbyshire.sch.uk
As ever, if you have a query on anything you are unsure about from the letter, please do get in touch on enquiries@swanwickhall.derbyshire.sch.uk or give us a ring and we will get back to you.
We have written to invite Year 6 students to the Swanwick Hall Summer School. For one week, teachers will offer a range of enjoyable activities that will focus on developing students' literacy and numeracy skills whilst building confidence in their new school alongside peers. There will be a choice of two weeks:  16th to 20th August 2021 or 23rd to 27th August 2021; whichever week your child is allocated, we do expect students to attend every day. The summer school is open to all Year 6 students who have secured a place at Swanwick hall school in September 2021. 
To express your interest please click here.